PANCAKE DIE WITH DESIGN CUTOUT: DC-15 ROUND/ SUN DESIGN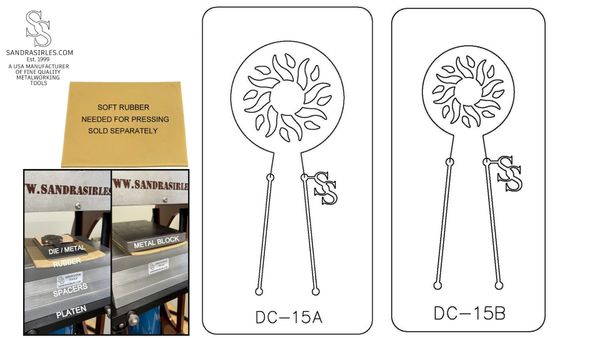 PANCAKE DIE WITH DESIGN CUTOUT: DC-15 ROUND/ SUN DESIGN
PANCAKE DIE WITH DESIGN CUTOUT: DC-15 ROUND/ SUN DESIGN
PANCAKE DIES WITH DESIGN CUTOUTS: Offer both a Pancake die and a Silhouette die in one die.
Pancake dies are a great way to cut metal without endless sawing. Silhouette dies are a great way to emboss metal.   IN ONE DIE!
DC-15A   LG. ROUND/ SUN DESIGN-   2" H x 2" W   Die 5-3/4" H X 3" W

DC-15B   MED. ROUND/ SUN DESIGN-   1-1/2" H x 1-1/2" W   Die 5-1/4" H x 2-1/2" W

PLEASE PICK A SIZE WITH THE PULL-DOWN MENU:
PANCAKE DIE WITH DESIGN CUTOUT:  
Back by popular demand…. these pancake die/designs were offered on the website many moons ago. Quite a few people asked if I could please bring them back.
(For those of you that have purchased these dies before. The part number has changed so be aware so you are not purchasing duplicates.)
These pancake dies with design are used with a soft durometer RUBBER sheet that will also be sold on the website.
SUPER EASY TO USE IN A PRESS;
Use just like a regular pancake die. Once you hear the pop of the cut… go a little further with the pressure so the metal will receive the design.
If you do not have enough pressure, the design will not transfer. If you go too far with the pressure, you will blow out the design, so experiment a little to get the feel.
Larger design spaces will need less pressure.
Smaller design spaces will need a little more pressure.
Thinner metal will need less pressure.
Thicker metal will need more presser.
Do not over think the process. Have fun!
Layering order for pressing
Platen
Spacers
Rubber
Pancake die with metal inserted
Metal block, cover the entire pancake die this will help the pancake die from bowing.
Dies are made to order, most orders ship within 2 1/2 weeks. BUT mishaps happen so please allow up to 4 weeks for fabrication before panic sets in.
RUBBER SHEET FOR PANCAKE DIES WITH DESIGN CUTOUTS: (Sold Separately). 
https://sandrasirles.com/products/7-x-5-rubber-sheet-soft-durometer
Reviews
Featured Products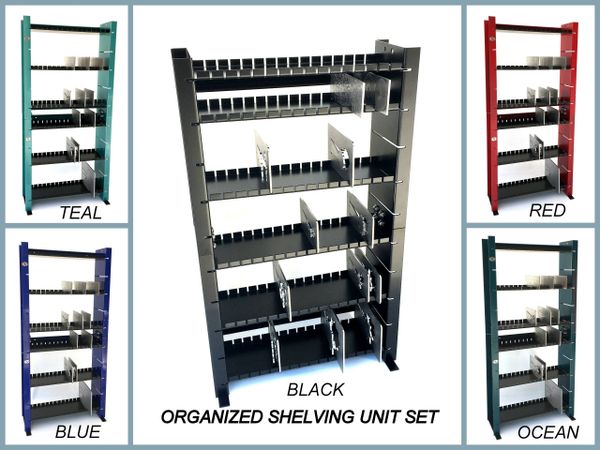 ORGANIZED SHELVING UNITS
$148.00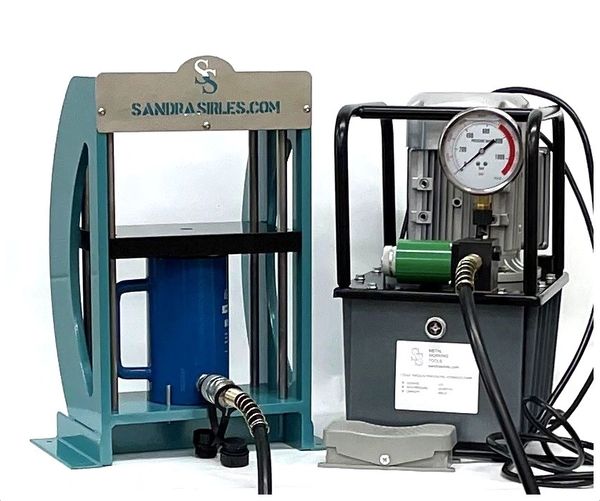 SS SIGNATURE 30-TON FOOT PEDAL OR HAND ELECTRIC HYDRAULIC PRESS
$2,600.00