INFORMATION: REMOVAL OF RUST & PROTECTIVE OILS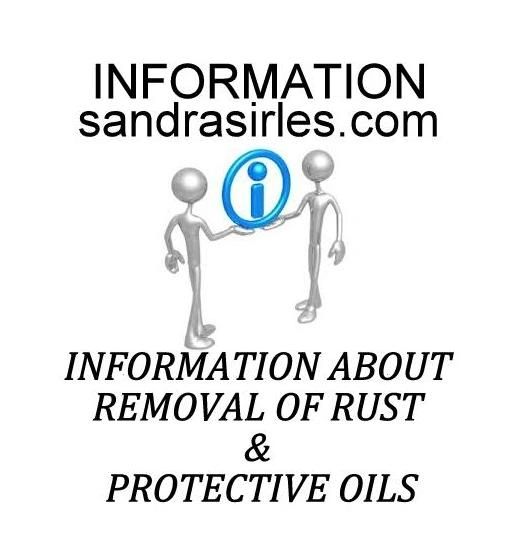 INFORMATION: REMOVAL OF RUST & PROTECTIVE OILS
INFORMATION: REMOVAL OF RUST & PROTECTIVE OILS     
INFORMATION ABOUT RUST AND OILS.
TO REMOVE RUST:
MOST POPULAR PRODUCT IS EVAP-O-RUST. IT IS NON-TOXIC AND VERY SIMPLE TO USE. JUST SOAK THE STEEL IN THE EVAP-O-RUST, SCRUB THE SURFACE WITH A BRASS BRUSH, AND RINSE. (YOU CAN RINSE OR NOT, IT'S UP TO YOU.) THOROUGHLY DRY THE STEEL AND COAT WITH A PROTECTIVE OIL. I HAVE FOUND THAT EVAP-O-RUST IS THE BEST. BUT I HAVE USED NAVAL JELLY, STEEL WOOL, NEVER DULL.
METAL DIES:  OIL 1:
I HAVE FOUND THAT GUN OIL IS THE BEST.  BUT I HAVE USED ANY LIGHT WEIGHT OIL, MOST WILL DO…GUN OIL, MINK OIL, MINERAL OIL, SEWING MACHINE OIL, BOESHIELD T-9, VASELINE AND QUITE A FEW OTHERS WILL WORK. LIGHTLY RUB THE OIL ON YOUR METAL DIES JUST ENOUGH TO MAKE A THIN BARRIER TO KEEP MOISTURE OFF SO YOUR METAL DIES WILL NOT RUST. YOU CAN FIND THIS TYPE OF OIL AT WALMART OR ANY AUTOMOTIVE STORE.
METAL:  OIL 2: 
CUTTING OIL, IS USED TO LIGHTLY RUB ON YOUR METAL NOT YOUR PANCAKE DIE. IT HELPS LUBRICATE SO THE PANCAKE DIE WITH A LOT OF DESIGN WILL CUT SMOOTHLY. YOU CAN FIND CUTTING OIL ON MY WEBSITE OR ANY MECHANIC, AUTOMOTIVE STORE.
Reviews
Featured Products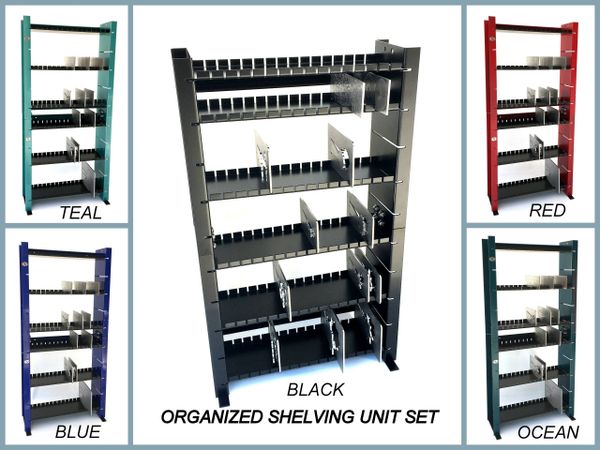 ORGANIZED SHELVING UNITS
$148.00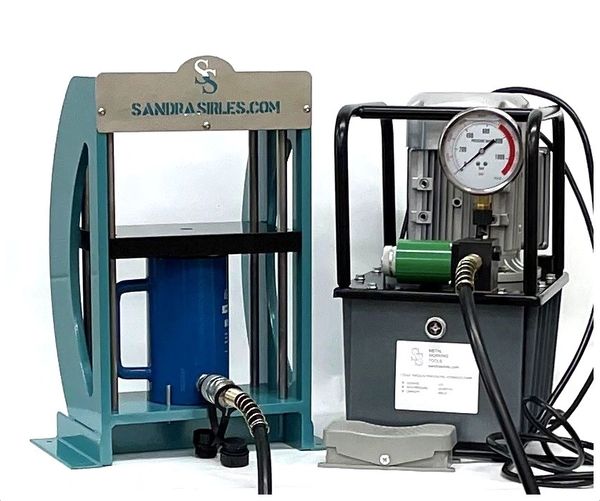 SS SIGNATURE 30-TON FOOT PEDAL OR HAND ELECTRIC HYDRAULIC PRESS
$2,600.00