SS PORTABLE HYDRAULIC PRESS - 30-TON CYLINDER HAND OR FOOT PEDAL ELECTRIC HYDRAULIC PUMP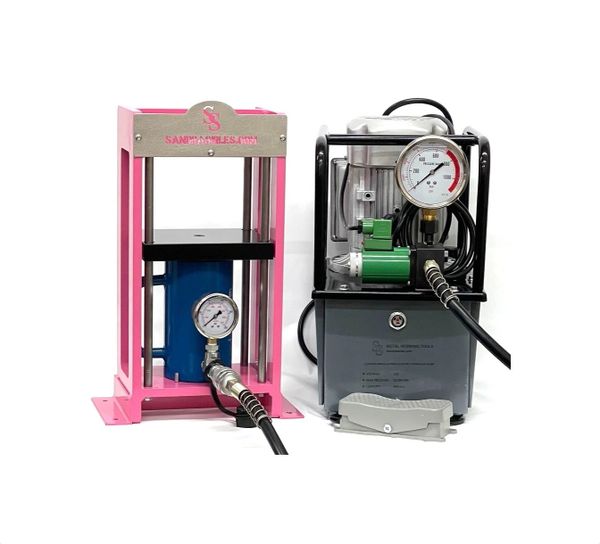 SS PORTABLE HYDRAULIC PRESS - 30-TON CYLINDER HAND OR FOOT PEDAL ELECTRIC HYDRAULIC PUMP
SS PORTABLE HYDRAULIC PRESS - 30-TON CYLINDER HAND OR FOOT PEDAL ELECTRIC HYDRAULIC PUMP

SHIPS FREE IN THE CONTINENTAL USA.    
International Customers: Please email us at  ss@sandrasirles.com for freight quote BEFORE PURCHASING. The motor we sell is wired to 110v. To ensure you do not damage the motor, YOU are responsible for either ensuring you have 110v power OR for purchasing a converter. sandrasirles.com is not responsible for motor issues due to incompatible power sources.
***WHEN ORDERING BE SURE YOU HAVE A CURRENT PHONE NUMBER ON THE ORDER FORM FOR THE FREIGHT COMPANY.***
PLEASE PICK HAND OR FOOT PEDAL WITH THE PULL-DOWN MENU:
PLEASE PICK A COLOR
WITH THE PULL DOWN MENU:
This press includes a 30-ton 4" stroke hydraulic cylinder and an Electric hydraulic pump/motor. Press dimensions: 18-5/8" High x 8-3/4" wide 11-3/4" (w/feet) x 6-1/2" deep. Lower platen working area: 6" wide x 6" deep. Weight Press: 53 lbs., 30-ton Cylinder 24 lbs. Total Weight = 77lbs
Electric hydraulic pump/motor dimensions: 20-1/2" high x 12" wide x 13" deep 58 lbs. 
** YOU WILL NEED (3) 6" X 6" OR 8" X 6" ALUMINUM SPACERS**   Aluminum Spacers are needed in your hydraulic press to manage and shorten the distance and effort needed to extend the press cylinder ram. Your top and bottom platens should never touch – without spacers between your platens your cylinder ram just might fail.
PRESS SHIPS FREE IN THE CONTINENTAL US. All press orders include 15% OFF pancake dies for 3 months. After the press is paid in full, you will receive a code for your 3-month discount. If you want your pancake dies to ship w/your press, place a separate order for the pancake dies right after you purchase the press.
PRESSES ARE MADE TO ORDER PLEASE ALLOW UP TO 4 WEEKS TO SHIP.
DESCRIPTION:  SS PORTABLE Hydraulic Press With 30-Ton, Hand or Foot Pedal Electric Pump
The sandrasirles.com Press has been designed, tested, and built to safely and efficiently be used for metal forming needs of jewelers, metalsmiths, and crafters, across the board. sandrasirles.com SS Presses are built from Steel plate construction, with certified welds on the entire press. The fully welded construction by certified welders makes our press extremely strong, durable, safe and rigid with no flexing.  The press design is compact and sturdy made to be portable. Our press allows you to emboss, texture, bend, form, shape and cut metal.
The upper platen is welded in place and is compatible with magnetic accessories. When the accessories are not in use, there is a convenient storage space on top of the press.
The space between platens is approx. 4-7/8"
1.  Press Can be bolted to a workstation or table for safe use: pre-drilled, welded mounting feet so you can bolt the press directly to a table or workstation. Not for use on a portable tool chest or any other light table. Please use 1/4-20 bolts for mounting feet to workstation.  (4 lag bolts included with your press)
Our frame has a lifetime warranty. Repaired or replaced at no cost.
Our frame and platens are powder-coated, with a stainless-steel logo plate.
Attributes:
·         - Affordable
·         - Compact
.         - Portable
·         - Pre-drilled mounting feet
·         - Ease of use
·         - Many accessories coming soon
·         - Works with other press manufacturer's accessories
·         - Lifetime Warranty on press frame
·         - 6" deep x 6" wide lower platen
·         - Outer dimensions: 18-5/8" High x 8-3/4" wide 11-3/4" (w/feet) x 6-1/2" deep
·                 - Frame is made to allow for transition to an electric hydraulic system.
SHIPPED: FREIGHT DELIVERY:   SHIPS FREE IN THE CONTINENTAL USA.   sandrasirles.com will cover the freight charge in the continental USA. Freight charge is between $285 - $575 in the continental US.
Truck will deliver to your home. Product is shipped on a 24" x 28" wooden pallet.
.

UNPACKING FRAME: 
1. Unwrap and unscrew your press from the shipping pallet.
2. Bolt press to strong table.
3. Watch my  YouTube Videos
Reviews
Featured Products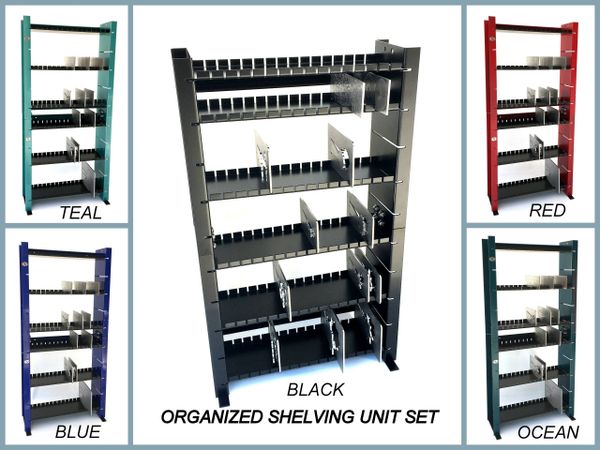 ORGANIZED SHELVING UNITS
$148.00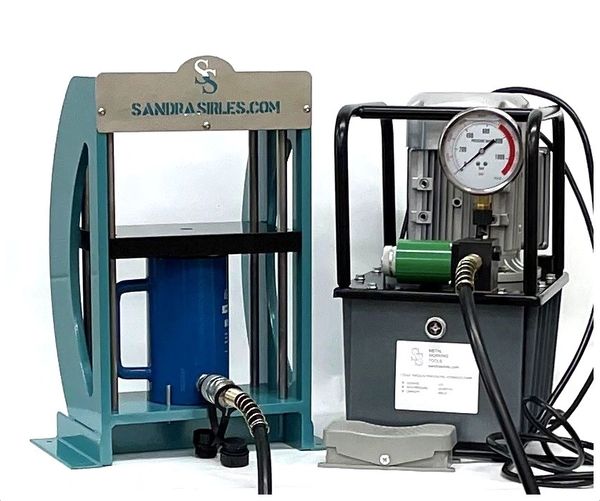 SS SIGNATURE 30-TON FOOT PEDAL OR HAND ELECTRIC HYDRAULIC PRESS
$2,600.00