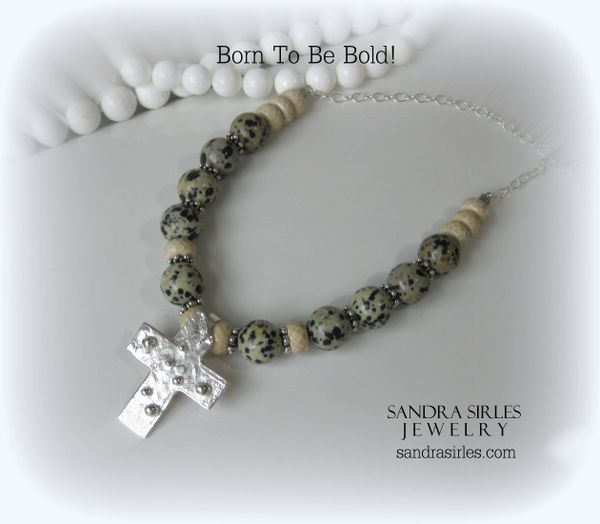 NECKLACE DALMATIAN CROSS
The focal is a Sterling silver Cross pendant. Approximately 1 1/2" x 1 1/4" Surrounded with Dalmatian Jasper, Riverstone, Sterling silver beads and a Sterling silver Chain and clap.  Sandra Sirles Exclusive.
The black spots within the Dalmatian Jasper are Black Tourmaline, which gives this stone the energy of protection. ... The dalmatian jasper meaning helps you to move forward in life, discovering your true purpose. It brings a sense of playfulness and joy into your life. The Dalmatian Stone appeals to the child within us all, fortifying the spirit and encouraging a sense of playfulness. It is particularly beneficial for those who are overly analytical, returning some of the intellectual carefulness back into the physical joy of simply being. It has a grounding energy, supportive of family and loyalty, and has a calming influence for children and animals.
Riverstone's energy accelerates change. It energizes your entire aura, speeding the resolution of any physical or inner process you are experiencing. River stone helps you move more swiftly through the changes associated with a particular process.   
LENGTH:  18"
Reviews
Featured Products