COPPER SMOOTH CUFF BANGLE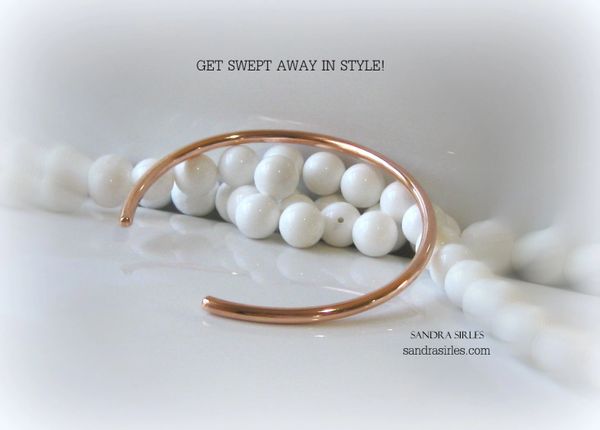 COPPER SMOOTH CUFF BANGLE
This Handmade Copper smooth Cuff Bangle is a nice solid piece of jewelry. The warm reddish-brown color is a perfect complement to any wardrobe.   Handcrafted with 8 ga round Copper  
Your Cuff will be handcrafted by me from solid Copper. The Cuff is shown with a smooth & polished finish.  Sandra Sirles Exclusive.  
Wearing copper jewelry for medicinal benefits has a long history, all the way back to ancient Egypt, reports the "Gale Encyclopedia of Alternative Medicine." You may find copper jewelry in health food stores and holistic healing centers today. For those who advocate the use of copper jewelry, proposed benefits focus on reducing joint inflammation and easing pain. Unless you have an allergy to the metal, you may be pleasantly surprised.
Wearing copper has several important benefits: First, copper is an essential mineral for humans, and wearing copper jewelry has the benefit of slow copper absorption- perfect for proper assimilation. It's also been claimed that headaches, arthritis, joint pain, and zinc deficiency can be effectively treated with the aid of copper or brass jewelry. 
"This website does not provide medical advice. We do not make any warranties about the reliability and or accuracy of this information."
Please note this item is handmade to order. Each piece is unique so may vary slightly from the photograph.
Reviews
Featured Products