CAPTIVATING SHADES OF BLUE NECKLACE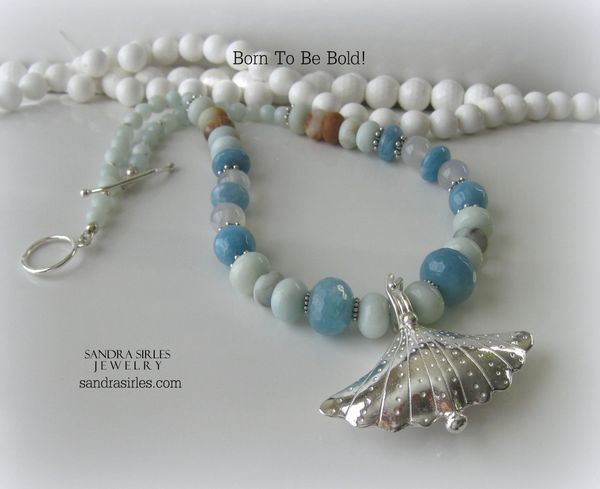 CAPTIVATING SHADES OF BLUE NECKLACE
The focal is a Sterling silver Sea Shell pendant. Approximately 60 x 46mm Surrounded with Amazonite, Blue Quartz, and Chalcedony. Sterling silver beads and a Sterling silver Toggle clap. 
Like waters deep and ancient, Amazonite beckons in captivating shades of blues, turquoise-green, promising to soothe the spirit and calm the soul. It tempers aggression, tames the irrational, and stills the disquiet. It provides harmony and balance.
 Blue quartz is a soothing, stress-relief stone, bringing a relaxing, peaceful feeling to any situation.   It assists in the ability to reach out to others. Assuages fear, Calms the mind, Inspires hope, and enhances organizational abilities, self-discipline and orderliness.
Blue Chalcedony is considered a nurturing stone, absorbs negative energy and dissipates it before it can be passed on. It promotes good will, opening the mind to new ideas, instilling feelings of benevolence and generosity.  Blue Chalcedony calms and centers the emotional energy field. It also assists in calming those with bouts of irrational anger, fear, panic or anxiety, and helps those who speak too quickly before considering the impact their words have on others.
LENGTH: 17"
Reviews
Featured Products