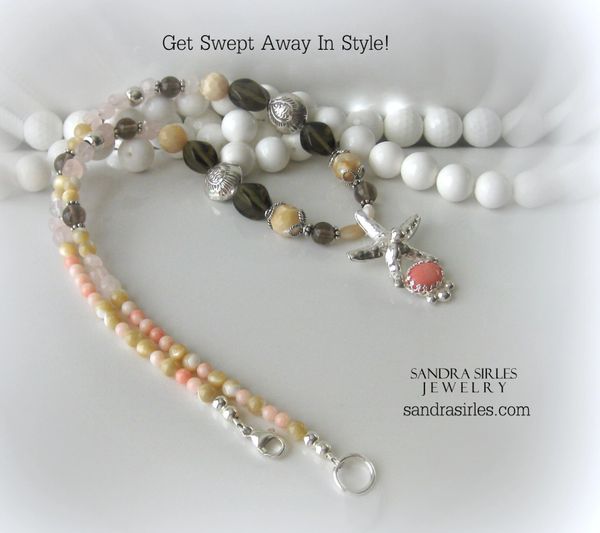 BEACH BOUND NECKLACE
Sterling silver Starfish and Pink Coral Pendant. Approximately 34.5x26mm.  Surrounded with Mother of pearl, Smoky Quartz, Rose Quartz, Pink Coral. Sterling silver beads and a Sterling silver clap.   
Coral can be used to reconnect with nature and its variety of wonders. Coral also attracts love and prosperity. Creativity and optimism are also qualities that coral brings out. Emotionally, coral brings inner peace, strength, and understanding of purpose. 
Mother of Pearl is said to attract prosperity, heighten intuition, psychic sensitivity, and imagination.  Mother of Pearl is used to purify environments.
Smoky Quartz is used to relieve tension and stress, anxiety, or panic attacks; also to ward off negative thinking, and to eliminate worry and doubt when faced with chaos or confusion.  Smoky quartz is a very protective and grounding stone.  It is also an excellent stone for protection from negative energy, as it is said to remove negativity and negative energy of any kind and transforms them to positive energy. Smoky quartz enhances survival instincts, and can help one reach personal and business goals. It is also used in assisting in making wishes come true by grounding their essence in reality.  Thus, it is a stone that brings abundance, prosperity, and good luck.   
LENGTH: 18"       

Reviews
Featured Products