BANGLE STERLING SILVER WITH ROSES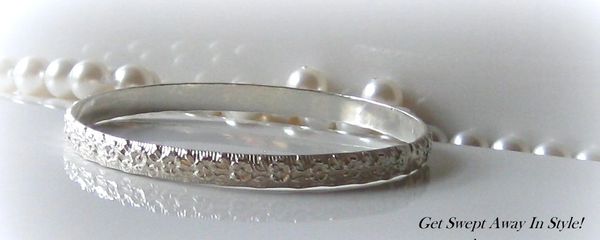 BANGLE STERLING SILVER WITH ROSES
This fabulous bangle is solid sterling, 5.10mm wide and 1.70mm thick. It sports a gorgeous detailed floral and leaf pattern and is sturdy and durable. Slightly work hardened to keep its shape, it's versatile and comfortable. Polished to a high shine.   A classic, it will hold its appeal for generations to come.  A great bangle to add to your collection.
Please note this item is handmade to order. Each piece is unique so may vary slightly from the photograph.
Please see the last photo for proper sizing instructions. Each bangle bracelet is custom made when ordered, so please make sure you order your right size.
SIZING:  EX SMALL
6.5" to 7"  =  EX. SMALL
7" to  7.5"  =  SMALL
7.5" to  8"  =  MEDIUM
8" to 8.5"  =  LARGE
8.5" to  9"  =  EX. LARGE
You may also like the matching Sterling Silver Rose Hoop Earrings
https://sandrasirles.com/products/hoop-earrings-sterling-silver-with-roses
Reviews
Featured Products