ABUNDANCE AND KINDNESS NECKLACE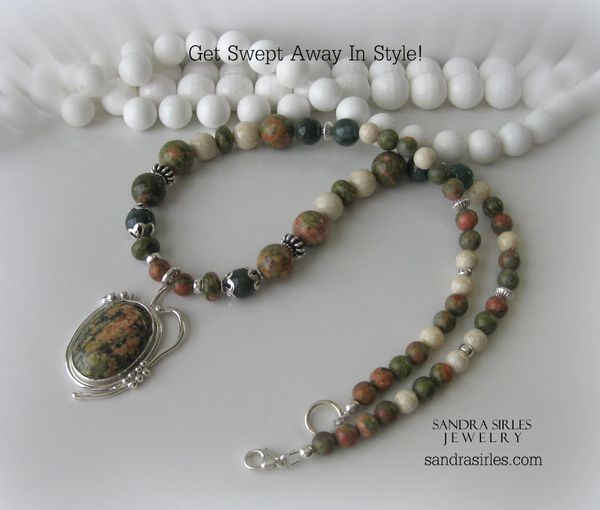 ABUNDANCE AND KINDNESS NECKLACE
Sterling silver and Unakite Pendant.  Approximately 45x25mm.  Surrounded with Unakite, Moss Agate, Riverstone. Sterling silver beads and a Sterling silver clap.   
Unikite  is a stone with gentle but powerful energy. It is also a stone that is helpful for gardening.   Unakite brings together the abundant, nurturing energy of green with the soft, caring passion of pink in one of Nature's most healing crystals of the heart and mind. It resonates with the frequency of love, compassion and kindness, and is a stone dedicated to balancing the emotional body. 
Moss Agate has been known as the stone of gardeners and agriculture.  As a stone of abundance, Moss Agate is known for its benefits in agricultural pursuits and has been successful in promoting the growth of new crops. Moss Agate is also a stone of wealth, attracting abundance in all forms. In the workplace, it draws new business and gradual expansion, increasing prosperity over time.
 River stone's energy accelerates change. It energizes your entire aura, speeding the resolution of any physical or inner process you are experiencing. River stone helps you move more swiftly through the changes associated with a particular process.  
LENGTH: 18"       

Reviews
Featured Products